Traditional worksheets
The worksheets are a unique set of topical, reading activities created for pupils in Key Stages 2-3 (P4-S2) to accompany each issue of our newspaper. They make literacy relevant and exciting in the classroom by showing your pupils how words really make a difference in the world.
Our worksheets are great for individual work, but they also provide stimulus for group work, as well as material for debates and assemblies.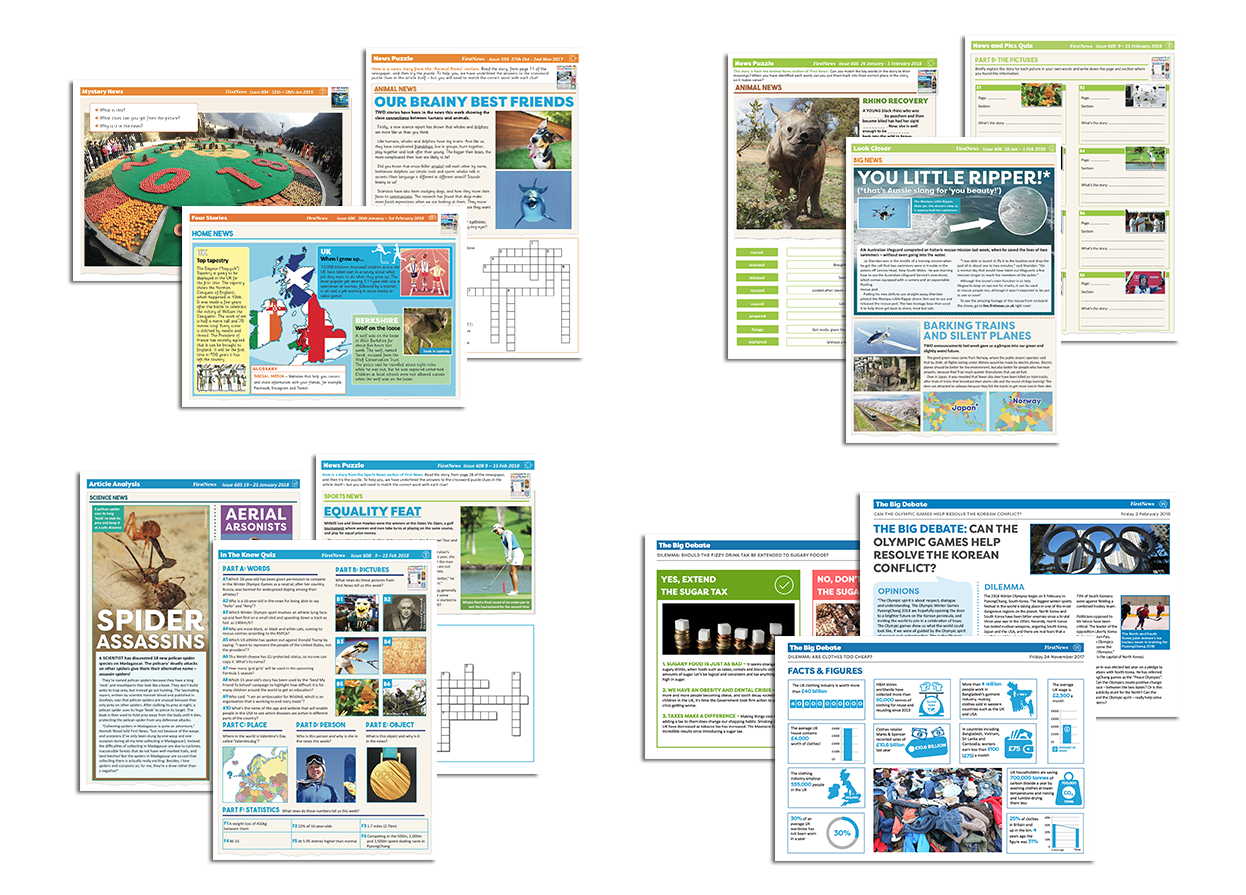 An indispensable classroom resource
Each activity is available at three levels; Lower KS2, Upper KS2, KS3
Resources emailed every Friday during term time
Answer sheets are provided for Level 2 and 3, saving you time
Unlimited access to our archive of activities
Proven by the NLT to 'significantly improve' literacy after 6 weeks
Who uses the worksheets
Our traditional worksheets are developed by teachers each week and are curriculum aligned. Each Friday during term time they available to download and emailed to you.
Primary Schools
The resources teach pupils about current affairs whilst improving their reading skills and getting them ready to reach the required standard for the end of KS2 reading test.
Suitable for: Year 3-6 (P4-7)
Secondary Schools
Keep your pupils reading in KS2 in a fun an engaging way. Our worksheets have been designed to help pupils reach the required standard for non-fiction elements of GCSE's.
Suitable for: Year 7-8 (S1-2)
International Schools
Our worksheets cover stories from regions around the world. Pupils' have a range of comprehensions, puzzles and quizzes to complete each week, creating an immersive reading experience.
SEN and EAL Pupils
Our worksheets activities are ideal for pupils with special educational needs or English as an additional language. They are inclusively presented with relevant and engaging content.
Our traditional worksheets
 

transform lessons

"The resources are a great way to engage pupils"
The comprehensions and weekly resources are fun, challenging and well thought out. They really develop children's reading skills.
- S Green, Teacher

"These are wonderful resources"
They're brilliant for engaging my "reluctant readers". I often use the news puzzles as a starter. The weekly debates are very good material to use with KS4 exam groups.
- Zoe Hinchcliffe, Teacher

"First News is easy to integrate into Guided Reading"
It was straightforward to integrate First News into my guided reading sessions. Where previously the focus was mainly on fiction, First News provided a new and exciting direction.
- Teacher, Fittleworth Primary
Revitalise reading: Subscribe today
Online: click here
Call us: 01371 851 898 (Monday-Friday 8:00am-5:30pm)
Email us: [email protected]