First News for International Schools
First News is a quality newspaper written especially for young people. For 11 years it has been brining news into classrooms across the UK and now, a growing number of schools internationally are discovering the benefits that regular newspaper reading has for their pupils. 
With our unique global perspective on current affairs we're fuelling the conversations that matter in classrooms worldwide.
 National Literacy Trust Research
The UK's National Literacy Trust has shown that the First News reading packages can 'significantly improve' literacy in schools.
Their research illustrates how our literacy teaching resources can improve children's inferential knowledge, deduction skills and spark a love of reading to last a lifetime.
You can read more about The National Literacy Trust's research here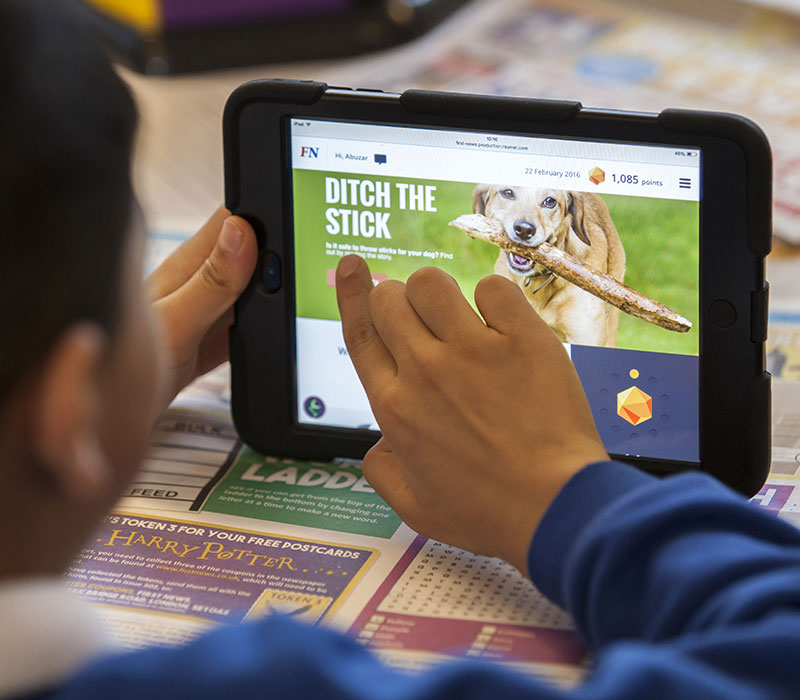 A trusted literacy resource
For teachers, First News is a trusted literacy resource. It offers new and exciting reading material each week for children, as well as tailored, topical teaching resources for subscribing schools. Our reading activities and our digital reading tool, the iHub, are ideal teaching resources to integrate into your school's literacy programme, supporting work in the classroom and at home.
Worldwide coverage
Each week, our newspaper covers key issues from all regions of the world. We help children understand global events with expertly written and researched articles, easy to digest articles and amazing images. Plus, each edition is packed with puzzles, quizzes, crosswords and polls to create an immersive reading experience.
Literacy iHub
iHub is our digital reading platform. The interactive tool has been expertly designed to develop vocabulary, analytical and critical thinking skills for children of all ages.
Using a range of comprehensions, word puzzles and writing challenges, children are taught to engage more deeply with the stories they read in the newspaper, inspiring learning through current affairs.
iHub won the BETT Award 2017 for best Primary Digital Content. The judges said that is a 'great innovative resource that will engage the learner in world affairs while developing and embedding comprehension skills in an interesting and imaginative way'.
Find out more about what we can offer your
school by entering your details below:
If you have any questions or wish to subscribe over the phone you can call us on
8AM – 5:30PM Mon – Fri GMT
First News has broadened the range of what children are offered to read by giving them access to – and a voice within – news and current affairs."

Jonathan Douglas, National Literacy Trust
The articles are relevant to me and easy to understand. Whatever mood you are in there is a story for you."

Georgia Organ, St Julian's School, Lisbon