Visit Westminster Abbey with your class!
Featured Resource Partners
Where can you find the complete body of England's only royal saint along with a riddle which predicts when the world will end? The answer is Westminster Abbey, where you can also become an expert in all your school subjects in just an hour's visit! If Science is your thing, pay your respects at the graves of none other than Isaac Newton and Charles Darwin. If it's History you're into, you'll get a 1000 year long roadmap through our history signposted by the thirty kings and queens buried here. Want to check out more things royal? Stand in front of the actual Coronation Chair and imagine yourself sitting on it ready to receive the orb, ring, sceptre and crown. To help you, nearby there's a portrait of Richard II on his Coronation Day. It's the oldest portrait of a monarch in the country, and nothing about the coronation has changed since it was painted more than 600 hundred years ago! But what's the story behind that graffiti on the Chair, or the burial of a friend of Shakespeare's – standing up? Take a tour and find out!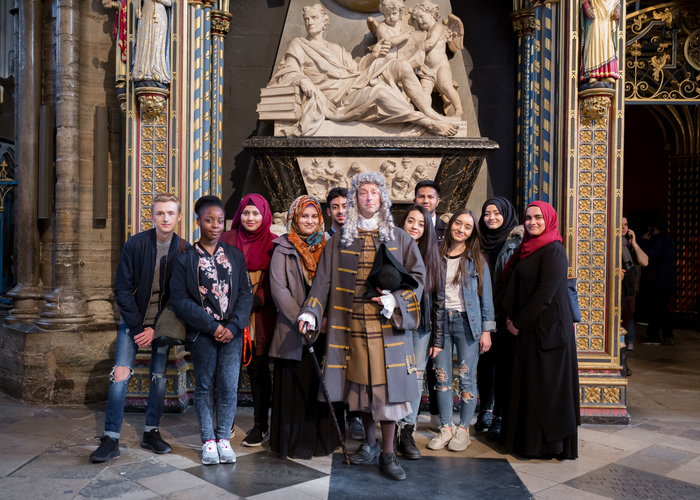 Westminster Abbey is one of the world's great churches and has been the Coronation Church since 1066. In the years since, it's become the final resting place of some of the greatest men and women to have lived in this country, a national treasure chest of creative geniuses, important Prime Ministers and passionate Civil Rights campaigners. A visit to the Abbey will bring you up close and personal with their stories and surprise you with new discoveries such as the secret garden where the Westminster monks used to grow their herbs and the country's oldest door. After exploring all corners of the Abbey and the cloisters, you may want to light a candle and stand for a moment by the Grave of the Unknown Warrior, the ordinary man who a hundred years ago, in World War 1, did an extraordinary thing in giving his life for all of us.
Come with your school and access all areas! Entering like a royal through the Great West Door, sitting in the Royal Wedding VIP seats or right in front of the Shrine of Edward the Confessor – all can be arranged by contacting Hannah on 020 7654 4965 or emailing [email protected]
Find out more on our website: www.westminster-abbey.org